Top 5 Viking Helmets for Your Next Costume Event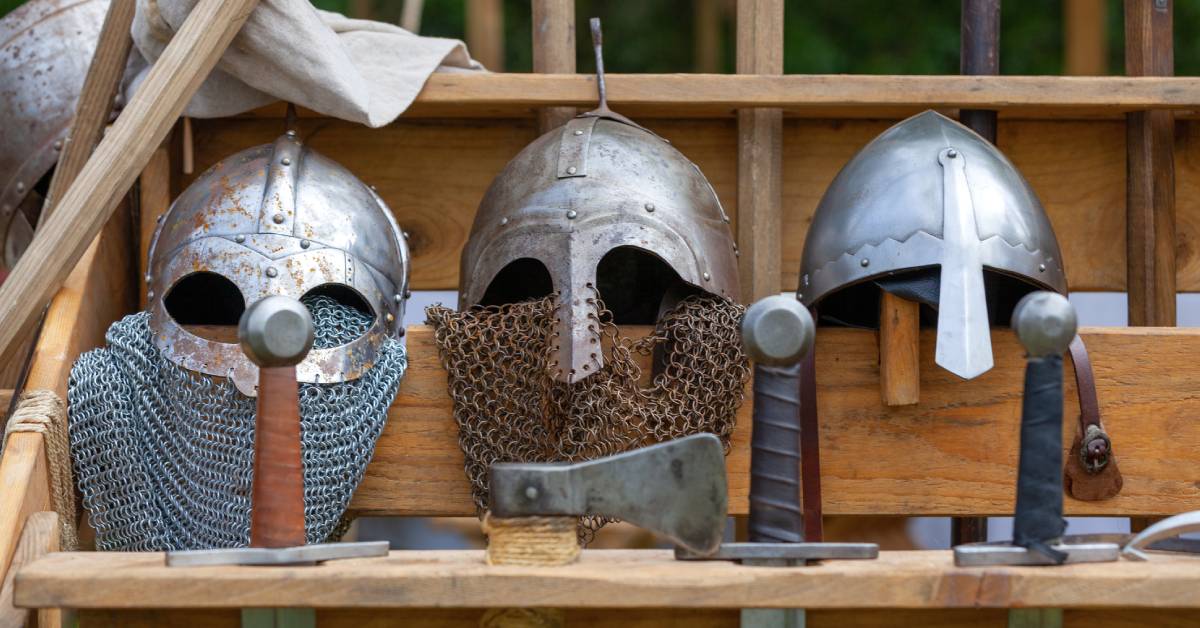 If you're passionate about historical cosplay or looking to stand out at the next costume event, a Viking helmet is an impressive choice.
In this comprehensive guide, we will journey through the key aspects of selecting and maintaining Viking helmets and reveal our top five picks for your next event.
Introduction
Long associated with the fearless warriors of the north, Viking helmets are a popular choice for historical reenactments, costume parties, and theatrical performances. Understanding these unique pieces of armor can enhance your overall costume experience.
The History and Importance of Viking Helmets
Before diving into our top picks, it's essential to appreciate the rich history and cultural significance of Viking helmets.
The Symbolism of Viking Helmets
Viking helmets, contrary to popular myth, did not typically feature horns. They were primarily functional and designed to protect the warrior's head during combat. The designs could be intricate, representing the wearer's status and achievements.
Materials and Construction
Authentic Viking helmets were usually made from iron and featured a rounded or conical shape, often with a nose guard for extra protection. Replicas may use different materials but should capture the essence of the original design for authenticity.
Choosing the Perfect Viking Helmet for Your Costume
Now that you understand the history and design of Viking helmets, we can move on to selecting the perfect piece for your costume.
Identifying Quality Reproductions
Quality reproductions should closely resemble the historical design, use durable materials, and demonstrate careful craftsmanship. Check customer reviews and purchase from reputable vendors to ensure a good buy.
Comfort and Wearability
While authenticity is crucial, your helmet should also be comfortable and wearable for the duration of the event. Look for helmets with adjustable liners or padding for a customizable fit.
Authenticity and Detail
Detailed craftsmanship, such as accurate shapes, patterns, or engravings, will enhance the authenticity of your costume. Strive to strike a balance between historical accuracy, quality, and comfort.
Top 5 Viking Helmets
After extensive research and review, here are our top five picks for Viking helmets.
#1 - Tytroy Plastic Viking Warrior Horned Helmet
The Tytroy Adult Plastic Viking Knight Warrior Horn Helmet is a value-for-money unisex costume accessory that takes your party experience up a notch.
With a solid customer satisfaction rating, this hard plastic helmet resonates with the spirit of the Norse warriors. It measures 14" W x 10 1/2" tall, fitting most adults comfortably.
The standout feature is the customizable plastic surface - you can paint or glue materials to it for a personalized touch. Complete with iconic horns, this Viking helmet is an ideal choice for costume parties, theatre productions, or tailgate parties.
Its hard-wearing nature is preserved with hand-wash-only instructions. At a low price, the Tytroy Viking Helmet is a fun, versatile accessory for any occasion.
Check out the Tytroy Plastic Viking Warrior Horned Helmet's best price here.
#2 - LOOYAR MIddle Ages Viking Horned Helmet
The LOOYAR Middle Ages Medieval Viking Age Horned Helmet combines authenticity and playfulness to create a superior-quality prop perfect for a variety of events.
This helmet provides a more mature aesthetic compared to conventional toy options. It's ideal for cosplay, LARP, Halloween, or even as a distinctive decorative item at home or office.
Crafted from lightweight Polyvinyl Chloride (PVC), the helmet offers a realistic metallic appearance while maintaining comfort over extended wear.
Its adult size (13.8"L x 8.3"W x 10"H) ensures it fits most adults snugly. Its iconic horned design carries a historical resonance, echoing the legacy of the fearless Viking warriors.
The LOOYAR Viking Helmet which is priced competitively, isn't just a costume piece. It's a conversation starter, whether you're at a party or using it as a unique decor item.
With simple hand-washing care, this helmet keeps its durable charm, making it an excellent choice for those seeking a blend of comfort, authenticity, and fun in their costumes.
Check the best price for the LOOYAR Middle Ages Viking Horned Helmet here.
#3 - AnNafi® Black Plated Antique Medieval Viking Mask Helmet
Elevate your historical role-play or collection with the AnNafi® Black Plated Antique Medieval Viking Mask Helmet. This premium quality soldier helm impressively captures the spirit of the medieval era.
Reasonably priced, this helm stands out as an authentic, handcrafted replica, rather than a mere costume accessory. The AnNafi Viking Helmet is made of iron steel, boasting a historically accurate design.
Its distinctive black finish exudes an air of antiquity, perfect for reenactments, LARP, cosplay, or as a high-end collectible.
The helmet is also fully wearable, including a liner and chin strap for comfort, enabling an immersive experience in your chosen medieval event.
This helmet's quality doesn't just reside in its aesthetics; AnNafi ensures that each piece is carefully crafted, paying attention to intricate details. As a bonus, the helmet comes pre-oiled to prevent rusting, though it does require cleaning before use.
The AnNafi Viking Mask Helmet is not just a costume piece; it's also an ideal gift for medieval collectors.
With a 30-day money-back guarantee against manufacturing defects, it's a safe and satisfying investment into a piece of historical artistry and craftsmanship.
Check the best price for the AnNafiViking Helmet here.
#4 - Mythrojan Viking Warrior Steel Helmet
Experience the thrill of Norse history with the Mythrojan Viking Warrior Steel Helmet. This piece, garnering a solid rating and fairly priced is an impressive blend of the iconic horns and practicality, designed to enhance your medieval adventures.
Constructed from 20 Gauge Steel and polished to perfection, this helmet boasts a robust and striking appearance. With a circumference of 68cm, it is designed to fit comfortably on most adults.
The iconic horned design instantly transports you back to the Viking Age, making it an ideal choice for LARP, cosplay, Halloween, theatrical props, and historical reenactments.
Mythrojan takes pride in using the finest materials and meticulous attention to detail in crafting its products, which is evident in this piece.
A unique feature of this helmet is the lifetime guarantee offered by Mythrojan, ensuring that your investment is protected for years to come.
Whether you're gifting it to a medieval enthusiast or using it to elevate your costume game, the Mythrojan Viking Warrior Steel Helmet is an undeniably attractive addition to your collection, offering high-quality craftsmanship and a piece of Viking warrior spirit.
See the best price for the Mythrojan Viking Warrior Steel Helmet.
#5 - AnNafi® Handcrafted Viking Wolf Armor Helmet Silver Finish
The AnNafi® Handcrafted Viking Wolf Armor Helmet is a breathtaking melding of authenticity, craftsmanship, and style. It has an impressive rating of 4.5 stars and is value for money, reflecting its high-quality materials and meticulous design.
This silver-finished Viking Wolf Helmet is a precise representation of medieval history, hand-forged with elegant carvings that highlight the spirit of the Viking era.
The use of solid steel and brass in its construction promises durability and a robust feel when worn.
The helmet is fully wearable and fits most adults, making it an ideal accessory for Renaissance fairs, LARP reenactments, cosplay events, or even as a unique addition to your collection.
The wolf-themed carvings add a touch of mysticism and power to the helmet, adding depth to your costume or display.
A standout feature is the lifetime warranty and 30-day money-back guarantee offered by AnNafi, testifying to the confidence they have in their product's quality and durability.
Whether it's a gift for a loved one or a treat for yourself, the AnNafi Viking Wolf Armor Helmet is more than a costume piece; it's a symbol of history and craftsmanship.
Check out the best price for the AnNafi Handcrafted Viking Wolf Armor Helmet.
Accessorizing Your Viking Costume
With the perfect helmet selected, let's turn our attention to accessories that can enhance your Viking look.
Matching Your Helmet to Your Costume
Your helmet should harmonize with the rest of your outfit. Consider the era, style, and color scheme of your costume when choosing your helmet.
Add-Ons and Extra Features
Consider adding accessories like a chainmail coif, a Viking shield, or a sword to complement your helmet and enrich your overall costume.
Care and Maintenance of Your Viking Helmet
To preserve your helmet's quality for future events, it's vital to properly store and maintain it.
Storing Your Helmet
Store your helmet in a cool, dry place to prevent rust and damage. If possible, use a helmet stand or padded box for added protection.
Cleaning and Preserving Your Helmet
Clean your helmet after each use to prevent sweat and dirt build-up. Follow the manufacturer's instructions for cleaning and preservation.
Conclusion
In conclusion, choosing the perfect Viking helmet can greatly enhance your costume event experience.
Final Thoughts and Recap
Whether you're participating in a historical reenactment or attending a costume party, a quality Viking helmet can add a touch of authenticity to your ensemble.
Remember to balance historical accuracy with comfort, and always take care of your helmet to ensure its longevity. Happy costuming!