Viking Sports, Games & Pastimes: Uncovering Nordic Leisure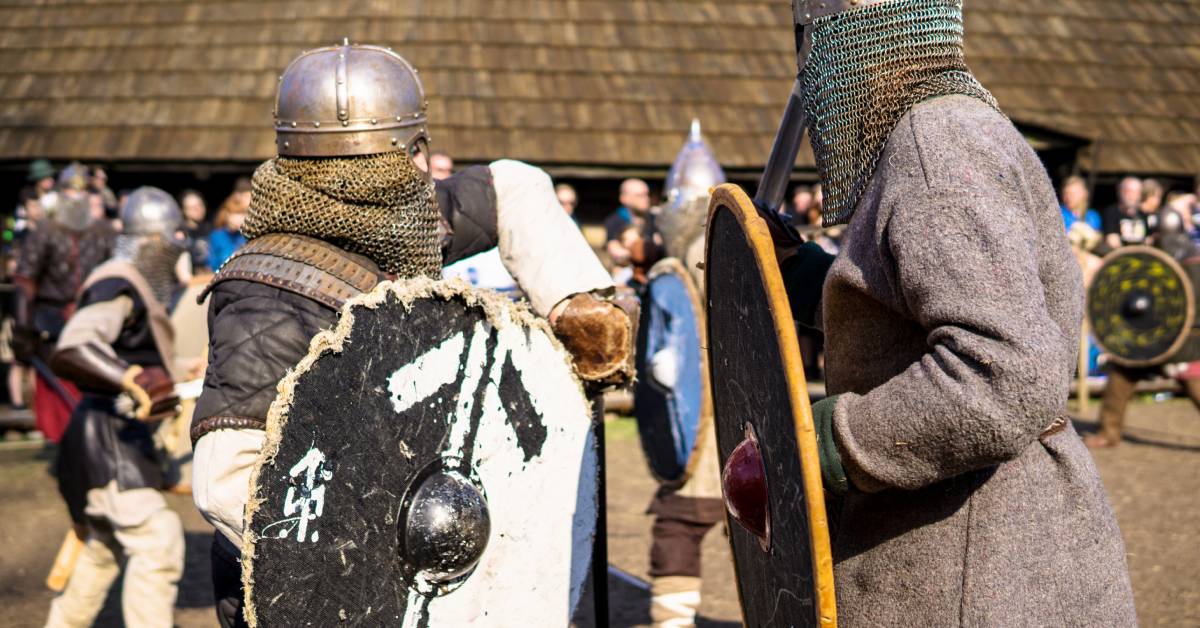 The Viking Age, a period that lasted from the late eighth century to the early 11th century, was a time of great exploration, expansion, and cultural richness in Scandinavian history.
Along with their reputation for warfare and exploration, Vikings also had an active cultural life, filled with a variety of sports, games, and pastimes. This article explores the wide-ranging activities that constituted leisure and entertainment in the Viking Age.
The Importance of Games and Sports in Viking Society
In Viking society, games and sports were not just forms of entertainment; they served critical social, educational, and cultural functions.
They fostered community, honed skills necessary for survival, and often reflected the hierarchical nature of Viking social structures.
The Social Function of Games and Sports
Community gatherings and competitions in Viking society were commonly accompanied by games and sports. These events served as a social glue, strengthening the bonds among members of a community.
Games and sports offered a structured form of entertainment that encouraged interaction and cooperation.
Training for Warfare
Many of the physical activities and sports enjoyed by the Vikings also served as training for warfare.
The strength, agility, and strategic thinking developed through these games were directly applicable to combat situations, ensuring that even leisure activities contributed to the Vikings' famed martial prowess.
Religious and Cultural Significance
The games and sports of the Viking Age were often closely tied to the culture's mythologies and religious beliefs.
Some games were believed to be favoured by certain gods or were played during religious festivals and rituals, highlighting the deep intertwining of leisure activities with the spiritual and cultural life of the Vikings.
Outdoor Activities and Sports
Vikings lived a life deeply connected to the outdoors, and this was reflected in their games and sports. Outdoor activities, from hunting and horseback riding to wrestling and archery, played a significant role in their recreational life.
Hunting and Fishing
For the Vikings, hunting and fishing were more than just means of subsistence; they were significant social activities and sports. These activities tested and developed skills like patience, accuracy, and understanding of the natural world, which were highly valued in Viking society.
Swimming and Rowing
Vikings, known for their maritime skills, naturally incorporated swimming and rowing into their recreational activities. These skills were not only useful for their expeditions and trade but also formed a part of their leisurely activities.
Swimming competitions and rowing races were common forms of entertainment.
Horseback Riding
The Vikings greatly valued their horses, using them for transportation, warfare, and for sport.
Horseback riding was a common pastime, and it's likely that races and other equestrian competitions were held regularly, allowing the Vikings to showcase their horsemanship.
Archery
Archery was a popular sport among the Vikings. It was not only a vital skill in hunting and warfare but was also enjoyed as a competitive pastime.
Competitions would often take place during community gatherings, with participants showing off their precision and prowess.
Wrestling
Wrestling was another favoured sport among the Vikings. These contests were an exhibition of strength and technique and could have been part of the training for young men preparing for warfare.
Such matches would also provide entertainment during feasts and festivals.
Indoor Games and Pastimes
While Vikings spent a great deal of time outdoors, they also developed a number of indoor games and pastimes for times when the harsh Nordic weather kept them inside. These included board games, dice games, and storytelling.
Board Games
The Vikings enjoyed several different types of board games, many of which required strategic thinking and could be quite complex. Hnefatafl, also known as Viking chess, and Knattleikr were among the most popular.
Hnefatafl: The Viking Chess
Hnefatafl, or "King's Table," was a popular board game in Viking society. The game simulates a raid, where the defending king, situated at the center of the board, tries to escape from the attackers.
Its popularity may be due to the fact that it reflects the warfare strategies of the Vikings.
Knattleikr: A Game of Skill and Strategy
Knattleikr was another popular game, although the exact rules remain a mystery. It's known to have involved a ball and sticks and possibly required a considerable amount of skill and strategy.
The game was played both indoors and outdoors, and according to the sagas, could sometimes become quite competitive.
Dice Games
Dice games were a common pastime in Viking society. Dice were easy to carry, and games could be played virtually anywhere, indoors or outdoors.
Though many of the specific rules of Viking dice games have been lost to time, we know they were a popular form of entertainment, often played in taverns and during long winter nights.
Viking Feasts and Competitions
Viking feasts were grand affairs, serving as social events where communities would gather to eat, drink, and partake in a variety of contests and games. These gatherings often included drinking games, poetry contests, and eating competitions.
Drinking Games
As part of their feasting traditions, Vikings enjoyed drinking games. Ale and mead, the most common Viking beverages, were consumed in large quantities, often accompanied by friendly competitions.
These games were not only fun but also reinforced social bonds within the community.
Poetry Contests: The Art of Skaldic Verse
Skaldic verse, a form of poetry unique to the Vikings, often played a role in their feasting traditions. Poetry contests, where individuals would compete to compose and recite the best verse, were common during these feasts.
These contests allowed Vikings to demonstrate their wit and mastery of language.
Eating Competitions
Feasts were a significant part of Viking social life, and they often involved copious amounts of food. It's likely that eating competitions, where individuals would compete to eat the most or the fastest, were part of these festive occasions.
These competitions, while entertaining, were also a display of strength and vitality.
Children's Games and Activities
Just as with adults, games and sports were an important part of Viking children's lives. These activities were not just fun; they also played a crucial role in teaching children the skills and values of Viking society.
Physical Play and Games
Viking children engaged in various forms of physical play and games. These activities helped children develop physical strength and agility, as well as skills like teamwork and strategy.
These games often mirrored the activities of adults, serving as a form of practice for the tasks they would perform later in life.
Toys and Dolls
Archaeological evidence shows that Viking children, like children today, played with toys and dolls.
These objects provided a source of amusement and also offered a way for children to imitate the roles and activities of adults, thus learning about their society's expectations and norms.
Artistic and Craft-based Pastimes
Leisure in the Viking Age wasn't limited to physical games and feasts. Artistic and craft-based pastimes were also common, serving as both a practical and creative outlet for the Vikings.
Textile and Leather Working
Textile and leather work were vital skills in Viking society, used in creating clothing, sails, and other essential items. But these crafts were not just about practicality - they also offered a canvas for artistic expression.
Intricate designs, patterns, and even stories were often woven into textiles or tooled into leather, turning a practical skill into a form of art.
Woodworking and Carving
The Vikings were skilled woodworkers, a talent that is clearly reflected in their intricate ship designs. Carving, too, was a popular hobby.
From small, personal items to large, decorative pieces, woodcarving offered a way for individuals to express creativity and demonstrate their skill.
Jewellery Making
Jewellery making was another popular craft-based pastime in Viking society. Jewellery pieces were often intricately designed and served not just as adornments, but also as status symbols.
The crafting process required patience, skill, and a keen eye for detail, and provided a creative outlet for the artisan.
The Role of Sports and Games in Viking Mythology and Sagas
Sports and games held such a significant place in Viking society that they even found their way into the myths and sagas. These ancient stories often feature gods and heroes participating in various games, reinforcing the cultural importance of these activities.
Modern-Day Revival and Interpretation of Viking Games
In recent years, there has been a growing interest in the sports and games of the Viking Age. Many of these ancient games have been revived or reinterpreted, providing a link to the past and offering a unique form of entertainment in the modern world.
Conclusion
From outdoor physical contests and indoor board games to feasts and festivals, artistic crafts, and mythological references, it is clear that sports, games, and pastimes played a crucial role in Viking society.
They provided not only entertainment but also a platform for social interaction, a way of preparing for adult roles, a form of artistic expression, and a mirror of their cultural values and norms.
The revival and reinterpretation of these games in modern times allow us a glimpse into the rich cultural tapestry of the Viking Age.