Ultimate Guide to the International Viking Market in Ribe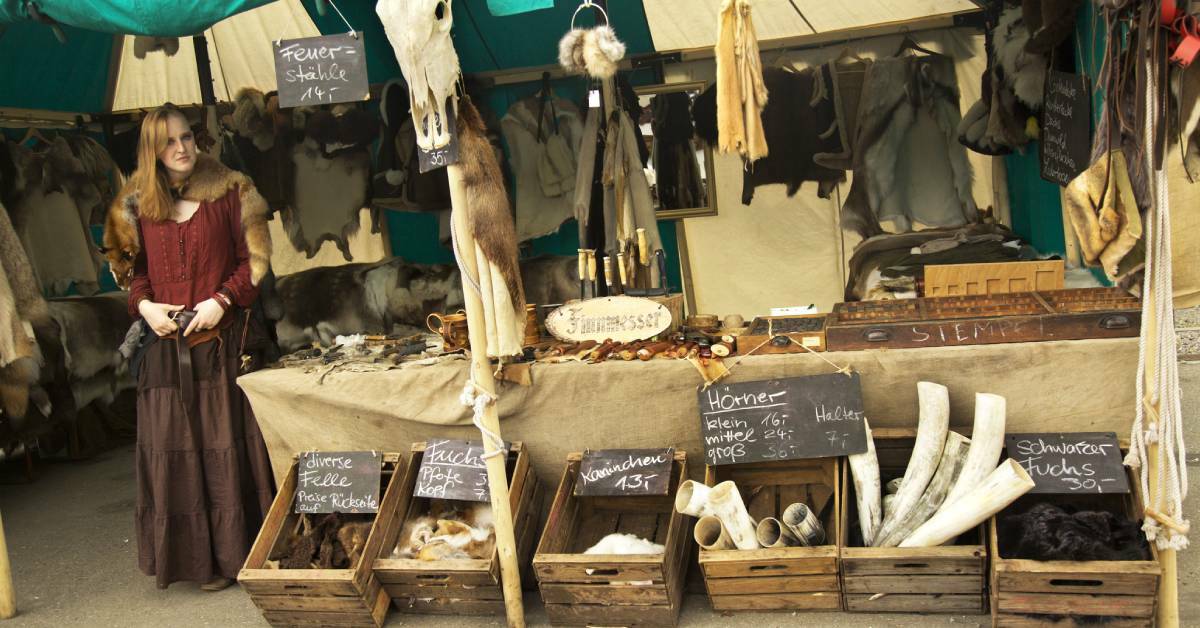 The International Viking Market in Ribe, Denmark, is a fascinating journey back to the era of the Vikings. This guide will take you through everything you need to know about the market, from its history to its numerous attractions.
So, get ready to immerse yourself in the world of Viking traders, craftsmen, and warriors.
Introduction
The International Viking Market in Ribe is an annual event that attracts thousands of visitors from around the globe. Every year, in the heart of Denmark's oldest town, enthusiasts gather to celebrate and relive the Viking era.
The market is a vibrant spectacle of ancient crafts, authentic Viking merchandise, traditional food, and live performances. This guide aims to provide you with comprehensive insights about the event.
History of the Viking Market
The Viking Market in Ribe has a rich history and is deeply rooted in Scandinavian heritage. Understanding its past can enhance your overall experience.
Origins
The Viking Market started decades ago as a small gathering of history enthusiasts. The idea was to recreate a historically accurate market experience that would transport visitors back to the Viking Age. Over the years, the event has grown in popularity and size.
Evolution Over the Years
Initially, the Viking Market focused primarily on local crafts and artifacts. However, as interest in Viking culture expanded globally, the event transformed into an international festival.
Today, the market attracts not only local artisans but also Viking enthusiasts from all corners of the world.
Understanding the Viking Culture
The Viking Market is more than just a shopping destination; it's an immersive cultural experience. Here, you'll have the opportunity to gain a deeper understanding of the Viking lifestyle.
Viking Trade and Craft
From metalworking and woodworking to textile weaving and pottery, the Viking Market showcases a variety of ancient crafts. Demonstrations by skilled artisans provide a glimpse into Viking craftsmanship and trade practices.
Viking Clothing and Armor
Visitors to the market will see reenactors dressed in historically accurate Viking attire, complete with tunics, trousers, cloaks, and even armor. This provides an excellent opportunity to learn about Viking fashion and protective gear.
Viking Food and Cuisine
The market also features traditional Viking food. From open-fire cooked meat to hearty stews and freshly baked bread, the food stalls offer a culinary trip back to the Viking Age.
Viking Traditions and Rituals
Various performances at the market depict historical rituals, traditional music, and folk dances, giving visitors a chance to witness Viking customs and traditions firsthand.
Before You Visit
Planning your visit to the Viking Market in advance can ensure a more comfortable and fulfilling experience. Here are a few things you should consider before your trip.
Getting to Ribe
Ribe is well connected to other major cities in Denmark by train and bus. The nearest airport is in Esbjerg, just a short drive away.
Where to Stay
Ribe offers a range of accommodations, from cozy bed-and-breakfasts to luxury hotels. For an immersive experience, consider staying at the local Viking Centre's guesthouse.
Weather and Best Time to Visit
The Viking Market typically takes place in spring when the weather is pleasant. However, it's advisable to check the forecast and dress appropriately as outdoor events can be affected by rain or wind.
Packing Essentials
Comfortable footwear is essential, as you'll be walking around the market for hours. Don't forget a reusable water bottle, a raincoat, and a sun hat for unpredictable weather. Also, pack a camera to capture the memorable moments.
Exploring the Market
Once you arrive at the Viking Market, there's plenty to explore. Here's what you can expect.
Layout and Map
The market sprawls across a large open field, with stalls clustered according to the type of goods they sell or activities they offer. There are usually maps available at the entrance to help you navigate the market.
Important Stalls and Attractions
While all stalls have something unique to offer, some of the must-see attractions include the blacksmith's forge, the woodcarver's hut, and the textile weaver's loom. Don't miss the storytelling sessions, held near the central bonfire.
Live Performances and Demonstrations
Throughout the day, there are several live performances, including traditional music, dance, and battle reenactments. Skilled artisans also demonstrate ancient crafting techniques at their stalls.
Engaging Activities
The Viking Market isn't just about observing; there are plenty of interactive activities for visitors of all ages.
Workshops and Craft Classes
Many artisans at the market offer workshops where you can try your hand at Viking crafts. You might carve a wooden spoon, forge a knife, or weave a basket under the guidance of experts.
Interactive Viking Games
Several traditional Viking games are set up for visitors to play, including Hnefatafl (a board game), Kubb (a lawn game), and archery. Participating in these games can be a lot of fun and is a great way to learn about Viking leisure activities.
Viking Cooking Lessons
Interested in Viking cuisine? Some food stalls offer cooking lessons where you can learn to prepare traditional Viking dishes.
Shopping Guide
The Viking Market offers a unique shopping experience. Here's what to look out for.
Authentic Viking Merchandise
From hand-forged jewelry and weaponry to woolen cloaks and leather boots, the market offers a variety of Viking-style goods. Many items are crafted on-site, allowing you to watch the creation process before you buy.
Local Art and Handicrafts
In addition to Viking merchandise, the market also sells locally made arts and crafts. These include pottery, woven goods, carved wooden items, and much more. They make for unique souvenirs or gifts.
Food and Drink
Exploring the Viking Market is bound to work up an appetite. Luckily, there are plenty of food and drink options available.
Traditional Viking Cuisine
Experience the flavors of the Viking Age at the food stalls. Try hearty dishes like grilled lamb, smoked fish, and root vegetables. Round off your meal with a slice of honey cake or a handful of dried fruits and nuts.
Local Delicacies
Many stalls also offer local Danish delicacies. Be sure to try the famous Danish pastries or smørrebrød, a traditional open-faced sandwich.
Drink Like a Viking
No Viking feast is complete without a drink. Quench your thirst with mead, a fermented drink made from honey, or try some traditional Viking herbal tea.
Safety Measures and Guidelines
While the Viking Market aims to create a fun and immersive experience, it's essential to stay safe during your visit.
COVID-19 Safety Precautions
Follow the latest local guidelines regarding mask-wearing, social distancing, and hand hygiene. Also, consider checking the market's official website for any specific safety measures implemented at the event.
General Safety Tips
Keep personal belongings secure at all times. If attending with children, make sure they are always supervised, particularly near the craft demonstrations and battle reenactments.
For History Enthusiasts
If you're keen to delve deeper into Viking history, there are plenty of other attractions in and around Ribe.
Historic Sites Around Ribe
Don't miss Ribe VikingeCenter, an open-air museum that offers more Viking history and interactive experiences. The ancient Ribe Cathedral and the Ribe Art Museum are also worth visiting.
Museums and Cultural Centers
The Museum of Southwest Jutland has a rich collection of archaeological finds from the Viking Age. The Ribe Viking Centre also offers a deeper look into Viking history and culture.
Extending Your Stay
If you're planning to stay longer in Denmark, there are several interesting day trips you can take from Ribe.
Day Trips from Ribe
The historic city of Aarhus, home to the Moesgaard Museum, is an excellent destination for history buffs. Nature lovers will enjoy visiting the Wadden Sea National Park, a UNESCO World Heritage site located just outside Ribe.
Exploring Greater Denmark
Denmark offers a wealth of cultural, historic, and natural attractions. Consider visiting Copenhagen, the capital, with its world-class museums and iconic landmarks like the Tivoli Gardens and the Little Mermaid statue.
Conclusion
The International Viking Market in Ribe is more than just a fair; it's a journey back in time. From experiencing the vibrancy of Viking culture to gaining a deeper understanding of their history, a visit to the market is a unique and enriching experience.
Plan your trip wisely and enjoy all that this fascinating event has to offer.
Additional Resources
For more information about the Viking Market, visit the official website. It offers up-to-date event details, ticket prices, and other useful information.
You may also find it helpful to read travel blogs or watch vlogs by people who have visited the market. Their experiences can provide practical insights and tips to enhance your visit.